In the realm of vaping, simplicity, flavor, and convenience reign supreme, and the Skwezed Disposable Vape embodies these qualities with perfection.
Offering an unparalleled vaping experience without the hassles of tank refills or coil replacements, Skwezed has earned its place as a premium vape juice brand that understands the needs of vapers. Let's delve into what makes Skwezed 5000 Disposable Vape a sought-after choice among the vaping community.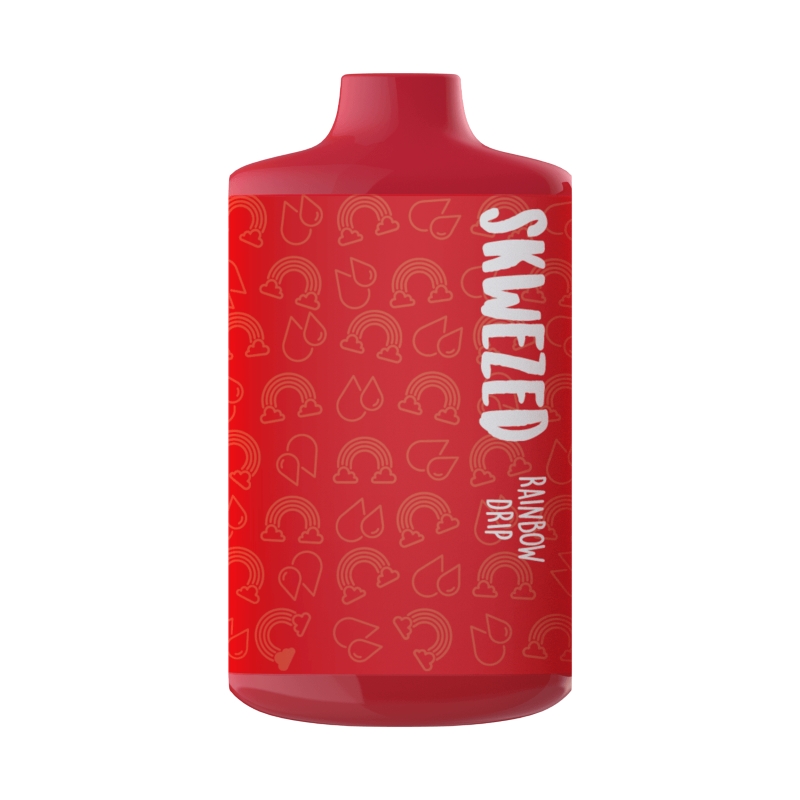 A Taste of Flavor Mastery
Skwezed is renowned for its exceptional flavor selection, and their Disposable Vape line is no exception. With a commitment to excellence, Skwezed utilizes their signature vape juice's salt nicotine to create a vaping experience that's rich in taste and satisfaction. Founded by Jimmy Fung under the VPR Collection in 2019, Skwezed has quickly become synonymous with premium quality and delightful flavors that cater to every palate.
Convenience Meets Popularity
Skwezed's Disposable Vape products have gained immense popularity for a reason – convenience. With no need for maintenance, refills, or complicated setups, these devices offer a seamless vaping experience. They are favored for their portability and lack of upkeep, making them an ideal choice for both beginners and seasoned vapers who value hassle-free enjoyment.
Unleashing Flavor and Performance
Each Skwezed Disposable Vape device is equipped with a built-in mesh coil, elevating both flavor and vapor production. With a pre-filled 50 mg salt nicotine solution, these devices deliver a satisfying nicotine dose that hits the spot. Offering an impressive 3000-5000 puffs, these disposable vapes are perfect for individuals seeking extended vaping sessions without interruption.
The 3K and 5K Marvels
The Skwezed 3K Disposable Vape boasts a non-tobacco nicotine strength of 50 mg, an 8ml e-juice capacity, and an impressive 3000 puffs. With a 280mAh battery and a mesh coil for enhanced performance, it offers flavors like Rainbow Drip, Banana Ice, Green Apple Ice, Berry Bomb, and Peach Ice.
Taking a step further, the Skwezed 5K Disposable Vape presents an improved design and an increased e-liquid capacity of 8ml. With an integrated battery, it provides 5000 puffs and a satisfying 5% nicotine strength. Flavors like Watermelon Strawberry Ice, Watermelon Green Apple Ice, Watermelon White Grape, and Watermelon Ice offer a refreshing journey for your taste buds.
Safety and Practicality
While Skwezed Disposable Vape is considered safe, it's always wise to follow the instructions and, if necessary, consult a healthcare professional. It's important to note that these devices are one-time-use and not rechargeable, making them ideal for those seeking a hassle-free vaping experience.
In conclusion, the Skwezed Disposable Vape line has emerged as a beacon of flavor, convenience, and satisfaction in the world of vaping. With a commitment to excellence, an array of flavors, and a dedication to simplicity, Skwezed continues to set the standard for premium disposable vape kits.
Whether you're a vaping beginner, flavor enthusiast, or simply seeking an enjoyable and uncomplicated vaping journey, Skwezed Disposable Vape is the ultimate choice. Elevate your vaping experience with Skwezed and indulge in a world of delightful flavors and hassle-free enjoyment.