Embrace the future of vaping with the ELFWORLD RELOAD 6000, a revolutionary disposable vape pod device that seamlessly combines cost efficiency with an exceptional vaping experience. As part of the ELFWORLD lineup, this disposable vape kit sets a new standard for convenience, flavor, and performance.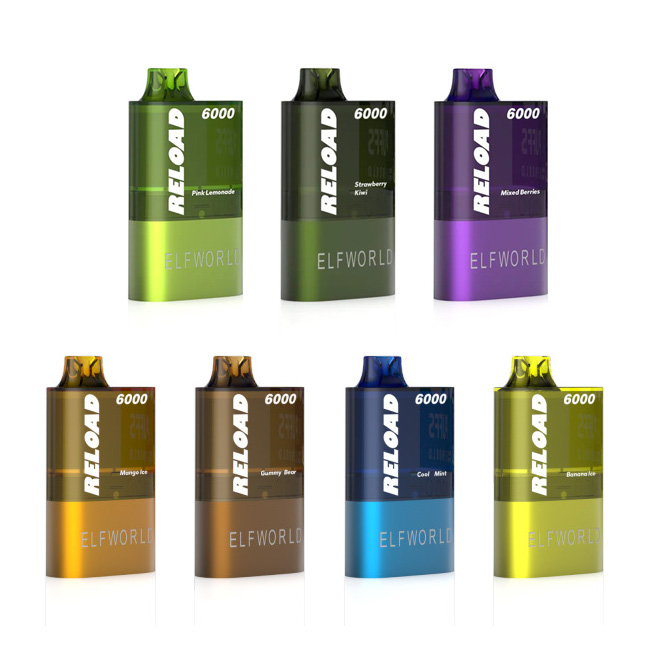 Tailored Nicotine Strengths
Customization takes center stage with the ELFWORLD vape RELOAD 6000. Offering a range of nicotine salt options including 0%, 2%, 3%, and 5%, it caters to a diverse array of preferences. Whether you're looking for a nicotine-free experience or a stronger hit, the choice is yours to make.
Ample E-liquid Capacity and Mesh Coil Power
Unlock a world of flavor with the ELFWORLD RELOAD 6000's impressive 12ml e-liquid capacity. This substantial reservoir ensures prolonged vaping enjoyment without the need for frequent refills.
But it's not just about the quantity – the quality of the vaping experience is elevated by the mesh coil technology, delivering enhanced flavor and vapor production.
Innovative Design with Changeable Pod and Rechargeable Battery
The ELFWORLD RELOAD 6000 goes beyond the ordinary with its unique design features. The changeable pod adds an extra layer of convenience, allowing you to switch flavors effortlessly.
The integrated 650mAh battery, rechargeable for extended use, ensures that you're always ready for your next vaping session. Embrace the future of vaping with ELFWORLD and take your experience to the next level.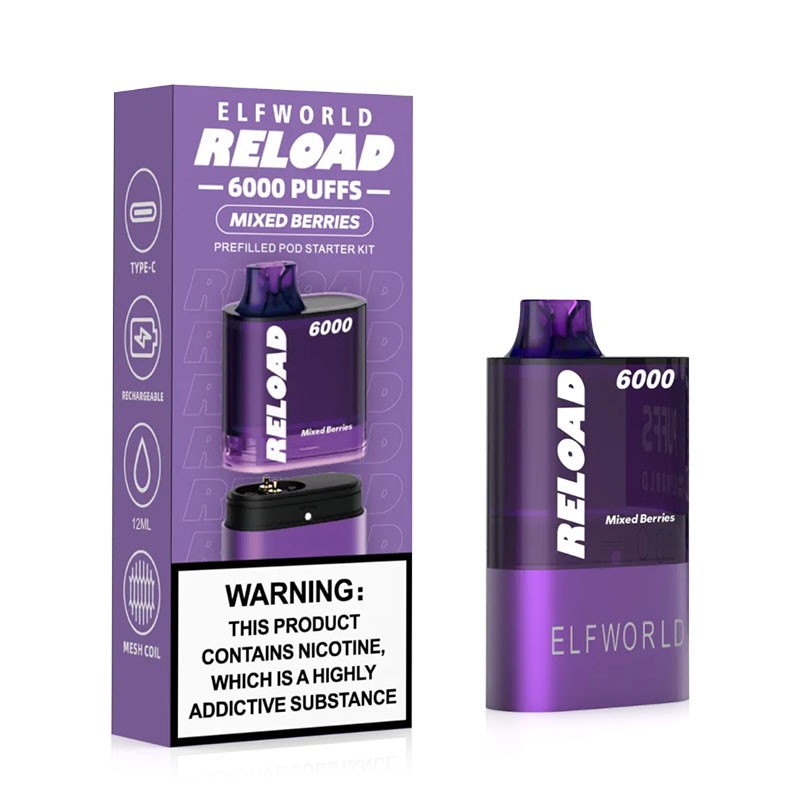 Conclusion
In a world where vaping technology continues to evolve, the ELFWORLD RELOAD 6000 stands out as a game-changer. By seamlessly blending customizable nicotine strengths, substantial e-liquid capacity, and innovative design elements, it offers an unparalleled vaping journey.
Whether you're new to vaping or a seasoned enthusiast, the ELFWORLD RELOAD 6000 is a must-try. Experience the future of vaping with enhanced e juice flavors, convenience, and performance – all encapsulated in the ELFWORLD RELOAD 6000 disposable vape kit.