The Hyppe Max Air 5000 Disposable Vape Kit must be regarded as a special one among the electronic cigarette devices with different styles at vape online store. Hyppe's products are always full of rich colors and full of childlike fun. They give electronic cigarettes a new meaning with their sense of design and unique style. Therefore, when you see the Max Air 5000, you may think that it is a cute little toy, or it may be a small pendant on a backpack, and it is difficult for you to associate it with electronic cigarettes.
The Hyppe Max Air Disposable 5000 puff vape is mainly based on white, and the square-shaped silhouette has few edges and corners, so you don't have to worry about it bumping. Different flavors of drip tip are distinguished by different colors, adding a touch of bright color to the monotonous base color, giving you a bright feeling visually. The Hyppe Max Air device has a small hole on the top for you to wear a lanyard, so you can hang it around your neck or bag when you go out.
Hyppe Max Air 5000 Puffs come in six flavors: Mega Mint, Lush Ice, Naked, Summer Fruit, Mango Ice and Strawberry Ice. The Hyppe Max Air is a pre-charged and pre-filled vaping device, which means you just need to open the pack, puff, and you're ready to get a smooth and delicious cloud. Hyppe Max Air Disposable can provide about 5000 puffs, giving you the most satisfying and precise experience in terms of performance, quality and taste.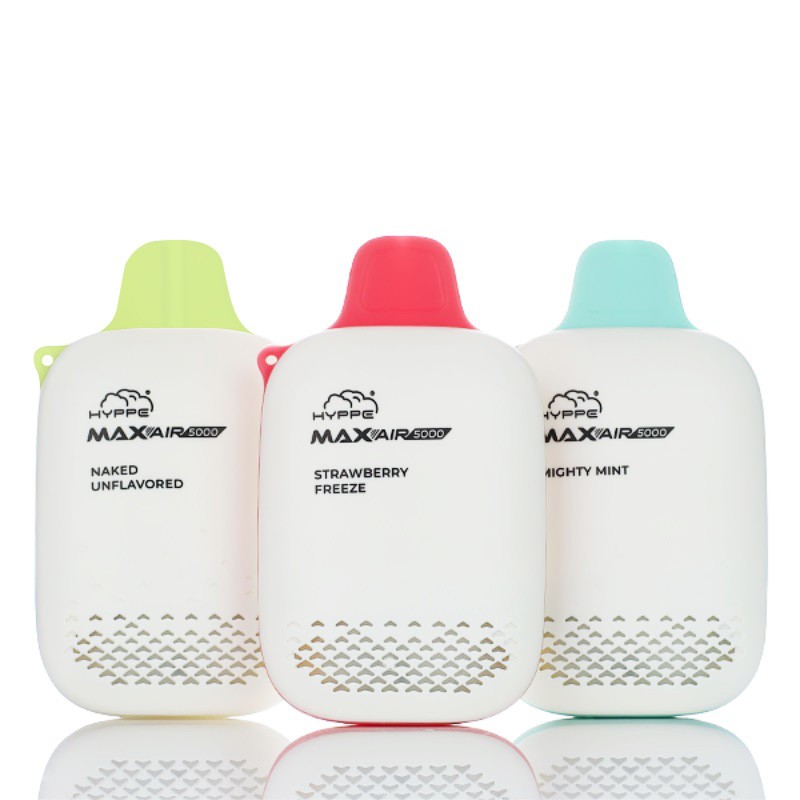 Specifications:
Puffs: 5000
Nicotine Type: Salt Nicotine
Juice Capacity: 13ml
Nicotine Concentration: 5%
Battery: 650mAh
Features:
Draw-activation firing mechanism
5% nicotine by weight (50mg/mL)
Soft silicone mouthpiece
Approximately 5000 puffs per device
Made with nicotine salt e-liquid
Rechargeable USB Type-C
Pre-filled & pre-charged
650 mAh internal rechargeable battery
Recommended Products:
r and m tornado vape flavors
evo bars vape
Read More Related Articles: https://www.bestvaping.ca/greatness-slenderness-uwell-cravat-kit/