Hellvape Dead Rabbit R Tank, made of SUS304, equipped with 510 dripper and 5ml capacity (6.5ml bubble glass), with quarter-turn top filling system. Hellvape Dead Rabbit R has a complete bottom airflow adjustment and condensation chamber, which brings an excellent flavor. More importantly, the Dead Rabbit R tank has R coil accessories, which can build the coil 10 times, saving costs.
Features:
New style meshed rebuildable tank
Easy to guide e-liquid rapidly, with a long life span
Quarter turn top fill system, classic Celtic knots design for comfortable grip & bayonet design for easy opening
Knurled grip to assist bottom airflow adjustment easily to bring extremely superior flavor
Changeable drip tip
R coil accessories to build the coil 10 times, cost-saving
The new Dead Rabbit V2 RTA is 25 mm in diameter and is mainly made of stainless steel and glass, with a Delrin 810 dripper. The pre-installed straight glass cup can hold up to 2ml of e-liquid, and the attached bubble can hold up to 5ml of e-liquid.
2ml really won't last you for a long time, especially if you plan to do a very low resistance build, but I would say that in my opinion, RTA looks much better with straight glass. This new filling system is more practical than before, but when you slide the top cover back to its original position.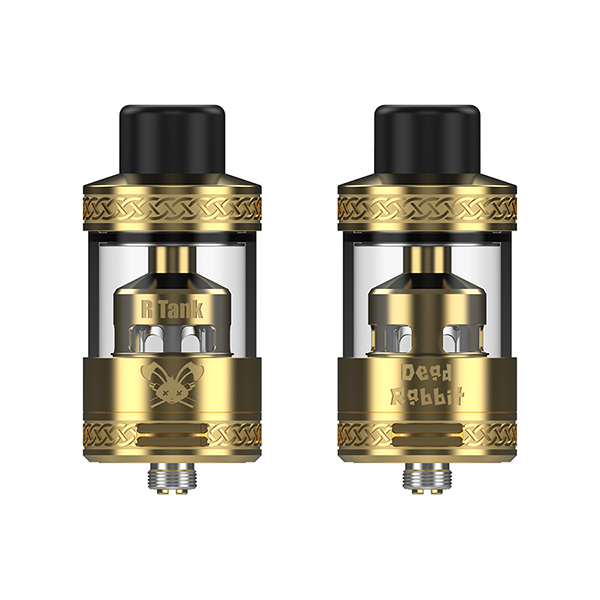 The side of the atomizer does get a little juice, because it basically scrapes off the top of the filling port on the way back, it's no big deal, especially if you are familiar with this system. Like the original Dead Rabbit, the V2 is a top-airflow RTA vape, and the airflow control ring is located right under the top cap.
The two air slots located opposite each other are absolutely massive, offering one of the airiest draws I've ever experienced as a vaper when wide open. I preferred to leave them about a quarter of a way open, which not only restricted the draw, but also made it much less noisy.
Other kits we recommend:
hellvape fat rabbit rta for sale
eleaf mini istick 2 kit in stock